We are members of TICA. The organisation has these titles:
CH - Champion,
GC - Grand Champion,
DGC - Double Grand Champion,
TGC - Triple Grand Champion,
QGC - Quadruple Grand Champion,
SGC - Supreme Grand Champion, the finest title a cat can get.
RW before the title means that the cat is the best in its region, Sweden belongs to Europe North.
Shows
Give, Denmark
Burma and Bombay successes at the TICA show in Denmark. NeuHeidbergen MacGyver, Stagelight's Yaz och Securitazz Charizma won several awards.
Securitazz Charizma in many finals with several first and second wins!
Show in Reno, Nevada, USA
Our USA export Securitazz Kismet of Katsnklamms is a success! She was Best Bombay kitten in TICA and has now won Supreme Grand Champion as a fullgrown cat before 1 yrs old. Her new owner Wendy Klamm has done a very god job! Congratulations Wendy!
RW SGC Securitazz Kismet of Katsnklamms (foto: Nancy Degenkolb Photography)
Show in Bruxelles, Belgium
Securitazz Larizza received Quadruple Grand Champion in Belgium.
DGC Securitazz Larizza
Show in Baden, Austria
RW SGC Stagelight's Zanella received Best Burma TICA Europe North!
Zanella with her rosette.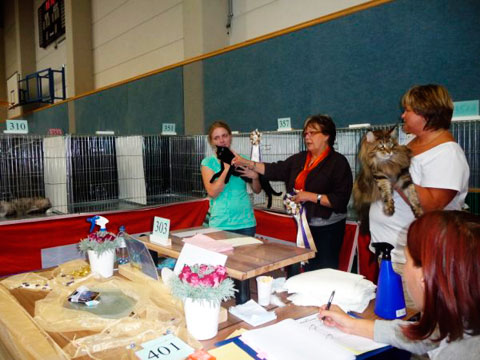 Securitazz Jerry Lee Cizzé won the Champion Alter title och was highly complimented!
Show in Porsgrunn, Norway
Securitazz Crezpo had great success in Norway. He won Best of Best Alter and is now also TGCA, Triple Grand Champion Alter. Congratulations also to Securitazz Sue Suazo for the title Grand Champion!
Beautiful Crezpo with all the rosettes
Show in Middelfart, Denmark
Stagelight's Zanella won Best of Best at the TICA show in Denmark and is now Supreme Grand Champion!
Stagelight's Yaz became Champion.
Zanella and me with judges Vickie Shields, Adriana Kajon and Pat Harding (Photo: Jakob Justesen)
Judge Adriana Kajon showing off Zanella's rosette (Photo: Jakob Justesen)
Show in Borgå, Finland
Zanella did great and is now titulated Quadruple Grand Champion. She also came second in Best of Best which is remarkable considering the tough competition.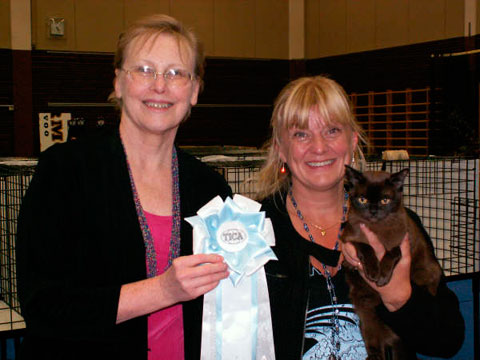 Zanella winning in Borgå, Finland. Here with judge Vickie Fischer, a candidate for TICA presidency.
Show in Gothenburg, Sweden
Our cats continue to be vey successful, our American Burmas Zanella and Yaz and our Bombay girl Zaviola each won a certificate and are now Champions in IDP.
Stagelights' Zanella, our Burmese queen, won Best in Show on Saturday.
Yaz won Best Male Shorthair and Zanella Best Shorthair on Sunday.
in Gothenburg
Show in Wieselburg, Austria
Zanella was very successful and won different titles conquering some of the best cats in Europe. She is now Triple Grand Champion! We are very proud for her success and her good temperament, not only her good looks!
Zanella - Triple Grand Champion
Zanella in Austria
Show in Barleben, Germany
Some of the members of HBA attended a TICA show in Germany. It was so nice to meet again which unfortunately doesn't happen very often. The show was very well organised with qualified judges, most of them coming all the way from USA!
We were very appreciated by the public and not the least, the judges. They were very fond of our traditional Burmas and Bombays with healthy lines.
Show in Kalmar, Sweden
Newsalert! Great success at Smålandskattens IDP show in Kalmar, Sweden. During Sunday's show Zanella, Yaz and Zavila won Judges best. Zaviola won Best Adult Shorthair, Zanella Best Young Shorthair, she also won Best Shorthair in total.
Betzy is titulated International Champion in IDP since a few years..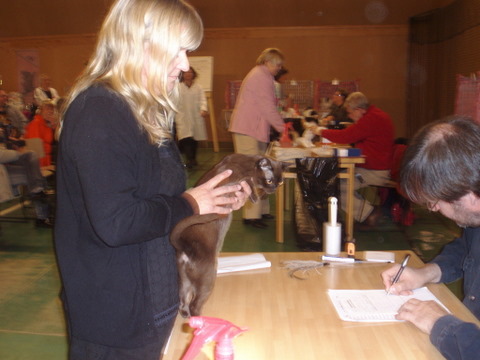 in Kalmar
Yaz, Zanella and Zaviola with prices